How to Stick to a Workout Plan and Love it- Part 2
The next thing that is really important is to LIKE what you are doing. If you find the workout is way too hard for you, maybe you need to do something a bit easier so you work yourself up and gain more strength to do other more intense exercises. The last thing you want is to be injured. You also don't want to get bored of what you are doing either. I like to change it up and not do the same thing everyday. Otherwise I will get bored and then, forget about working out that day!
"A

llow yourself to be a beginner. No one starts at the top."
When I first started working out I was doing some exercises that were just too much for me. They were so hard that I was so upset at myself. Burpees- forget about it!! I would literally try to get through the workout and end up depressed and looking in my freezer for ice cream to make me feel better. NOT a good idea, duh. So I thought about it and realized maybe I should do lower impact workouts and start at the beginning. I looked for some beginner workout plans and I actually found a great plan on hasfit.com. I LOVE this. These workouts made me enjoy working out. I feel great after them as well and I feel that I am getting stronger. Woohoo! The other day I did a short tabata workout and was so much better at burpees and push ups. It's amazing!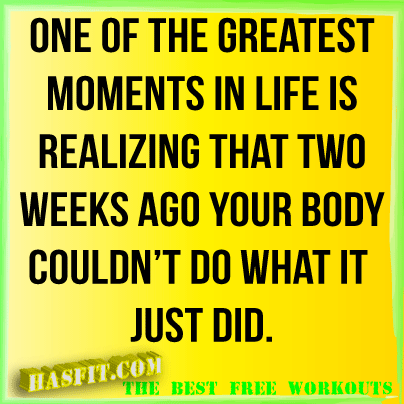 Yes, I know it is only beginner workouts. Believe me, I cracked up when one of the videos started off saying "this is a great workout for seniors" SAY WHAT!? Don't be discouraged. Put your ALL into the workouts and you WILL see results.
To summarize: Enjoy your workouts and change them up to keep it exciting.
*I do not mean that workouts should be super simple and easy. You should still need to push yourself to get through it, especially at the end. That is the way you will see change, quickly.
Stay tuned for more!