In case you missed it, here is my amazing simple recipe for Healthy Fudge Brownies.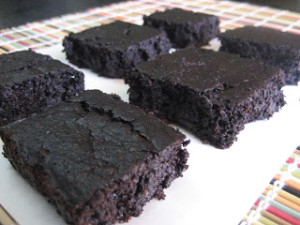 Brownies are probably my favorite dessert. My regular unhealthy recipe for brownies are obviously delicious, but they leave me feeling heavy and with stomach pains, not to mention help with weight gain. I began to try several different recipes for brownies, but never had luck making a batch that i'd be proud to give to guests or share with you all. That has finally changed! This recipe is not only healthy, but it is super delicious, rich and fudgy. They melt in your mouth and are really hard to stop at just one. Good thing is, you don't need to feel guilty if you have two. Yay! So next time you are craving chocolate or just want a treat, bake these! You won't want to go back to your old brownie recipe, believe me.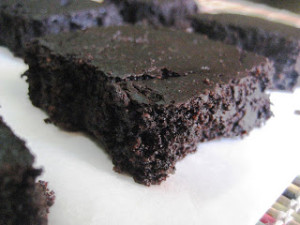 Fudge Brownies
Adapted from Jillian Michaels
1/3 cup honey, can also use agave
1/2 cup unsweetened cocoa powder, use 1/3 cup for a lesser rich chocolate flavor
a few drops of liquid stevia*
2 egg whites
1/2 cup unsweetened applesauce
1 Tb melted coconut oil
1 tsp vanilla extract
1/2 cup oat flour*
1/4 tsp baking powder
1/4 tsp baking soda
pinch of salt
Preheat oven to 350°F. Spray 8×8 pan with olive oil.
Whisk together the first 7 ingredients. Then add in the last 4 and mix again till smooth. You can add some chopped walnuts in if you'd like or chocolate chips, but it will go up in calories. Pour into pan and bake for 25 minutes. Let cool and place in fridge. Once it is cold, cut into squares and enjoy. These taste best cold so store them in the fridge.
*To make oat flour all you need to do is blend oats in a blender till powder consistency. I make a lot at a time and store in a bag for later use.
*Each brand of liquid stevia is different therefore you may need to taste the batter a bit to see if it is sweet enough for you. My brand was a bit weaker in sweetness so I used about 1 full dropper for the recipe.
These make about 12 squares depending on the way you cut them.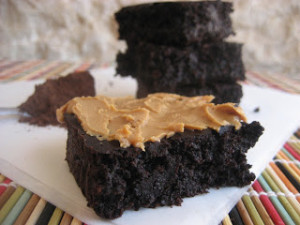 Top with peanut butter for even more deliciousness
!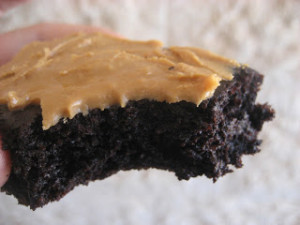 I hope you enjoy this recipe
!